Dedicated to Healing
Inception & Growth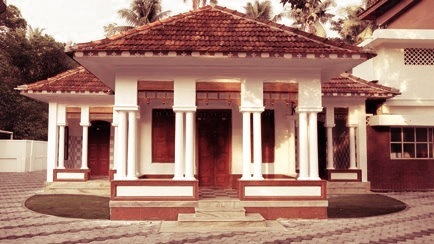 "Over a 104 years of expertise in ayurvedic treatment.
Successfully treated over 25,00,000 patients
Run by the 4th generation, traditional family of Aurvedic doctors"
Knowledge of life was the central principle and mission for late M.C.Kunjuraman Vaidyan ( 1881 -1946), the legendary connoisseur of Ayurveda, in founding Sree Rama Krishna Pharmacy widely known as Chingoli Ayurveda Hospital, in 1908. He was blessed with rare wisdom accumulated as a disciple of Mootha Koyi Thampuran, popularly known as Kerala Vagbhatan of Ananthapuram Palace, Haripad.
About half a decade after its inauguration by Kerala Panini, A.R. RAJA RAJAVARMA KOYI THAMPURAN, this noble cause was further nourished and expanded by the great visionary R. Krishnan Vaidyan (l911-1993). He took his Vaidya Kalanidhi from Government Ayurveda College, Trivandrum in 1934, was a member of Board of studies in Ayurveda faculty of Kerala University and above all was widely known and esteemed as a committed physician. Chingoli Ayurveda Hospital and Research Centre has flourished with this great heritage of its founders and the deep wisdom accumulated by four generations practicing the divine art of Ayurveda to cure, refresh & replenish. Nestled in picturesque ambience in sync with the rhythm of nature, which offers exclusive programs that cure a host of ailments, replenish the healthy spirit and refresh the human body with its natural vigor and beauty.

Our Valuable Team Members
Dear Dr. Mohan Babu,
My wife and I have been enjoying our therapy every year for more than a decade at Krishnendu Ayurveda Hospital. My rheumatoid arthritis ESR used to be '56' when I started therapy, and now for the past four years my ESR has been '4'. Through therapy, my wife has significantly experienced a decrease in her back pain. While we thank you and your staff for the wonderful job you are doing, we praise God for providing Krishnendu Ayurveda Hospital. Services of your associate doctors and therapy technicians are very commendable. God bless you all.
Dear Friends
My wife and I had a very good time of relaxation and therapy at your facility. The room was very good and the grounds were very pleasant. Our ten day stay was highlighted by the wonderful oil massage and treatment. We appreciate your staff who made such a stay
so good.
I hope to return someday
Away from the hustle, bustle and high price of city ayurveda hospitals, for the last few years I (thrice my family as well) chose Krishnendu for annual or bi-annual rejuvenation treatment for the following reasons:
(a) The cost is very competitive compared to the city rates that I had paid earlier;
(b) The treatment is excellent;
(c) Accommodation is very good with the typical Kerala food to go with it;
(d) Krishnendu is placed equi-distant from the airports of Cochin and Trivandrum (2-3 hours)
(e) The hospital is in a village nestled within a large compound of scenic ambience, removed from the road;
(f) For me, a great relaxing chance, and a change from busy courtroom schedules.
Best wishes,
"I would like to extend my sincere gratitude for your treatment and care that you have provided during my stay at Krishnendu. I recommended Krishnendu to many people not because I was there but because of the service you and your staff provided. You have done an excellent job to maintain everything in your facility. The staff is absolutely amazing and I just don't know how to put it in words. Your care alone can make a person get cured. Thank you so much Doctor! "
Wir danken für die excellente Betreuung während unseres Aufenthaltes in der Krishnendu-Klinik. Für jemanden, der sich ernsthaft mit Ayurveda beschäftigen möchte und der auf beste medizinische Betreuung und herrliche Massagen, aber auch auf einen nachhaltigen Kureffekt Wert legt, kann Ihre Klinik nur bestens empfohlen werden. Wir waren von der professionellen Organisation und dem Verfliegen unserer vier Behandlungswochen sehr angetan und auch die Nachwirkungen auf unser Wohlbefinden halten noch an.
Nochmals besten Dank und liebe Grüße