Our Specialties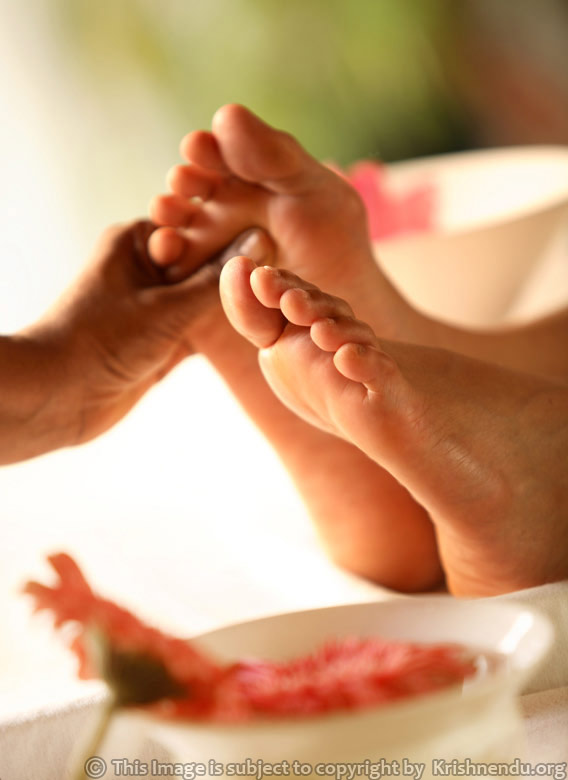 In the endeavour to provide a complete solution to a healthy life by curing ailments and ensuring well being, we follow various combinations of ayurvedic therapies for an average period of 7 to 28 days. The ideal program for patient is arrived after an in-depth study on the patient's physical health and medical history. Krishnendu has many unique, effective and time-tested programs which combines several rare ayurvedic techniques and cure for back pain, asthma, diabetes, piles, weight loss, infertility, obesity, pimples, rheumatoid arthritis, pcoc, sinusitis, hair regrowth, knee pain, dandruff, paralysis, migraine, hair loss and hair fall, skin diseases, fibroids, knee joint pain, constipation, acidity, osteoarthritis, cholesterol, jaundice, sciatica, osteoporosis, haemorrhoids, gastric problems, spondylitis, cough, insomnia, psoriasis.
Panchakarma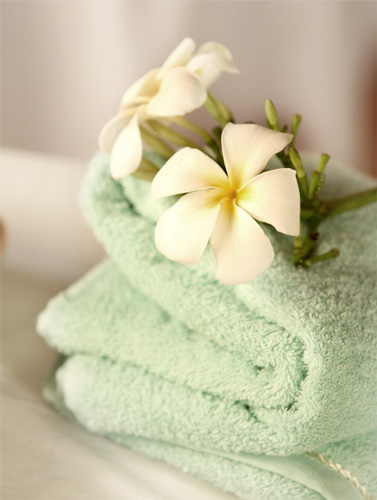 This is the essence of Ayurvedic treatment. Promising results can be seen even in incurable diseases. Through a series of systematic treatment regimens, body is purified and normal rhythm of life is regained. Each module is planned to work on the whole body. Emesis, Oil enema, Medicinal enema and nasal sinus cleansing are the fivefold procedures known as Panchakarma.
The ideal program for each patient is arrived at, after an in-depth study on the patient's physical health and medical history. They will then receive an individualized module consisting of therapeutic massage, dietary counselling and body detoxification or rejuvenating treatment. The average modules are between 7 to 28 days.
All therapies are conducted by experienced masseurs or masseuses under the supervision of professional Ayurvedic physicians.
Swedanam-medicated steam bath
Different combinations of herbs are boiled in water and this medicated steam mobilizes accumulated ama (toxins inside the body) in the srotas (body channels) and thus fee your body of toxins.
Abhyangam
A unique massage, which rejuvenates and balances the energies.
Snehadhara
Rightly named the Stream of Love, this involves pouring warm medicated oil in a rhythmic way and gently massaging it on the whole body.
Recommended for Diabetic Neuropathy, Poor blood circulation, stroke and spinal disorders.
Shirodhara
This treatment is indicated for the diseases affecting brain. It involves pouring medicated oil (dhara) on the crucial points on forehead as prescribed by the Vedas. It provides cooling refreshment to your head recommended for stress, anxiety and sleeplessness.
Njavara Kizhi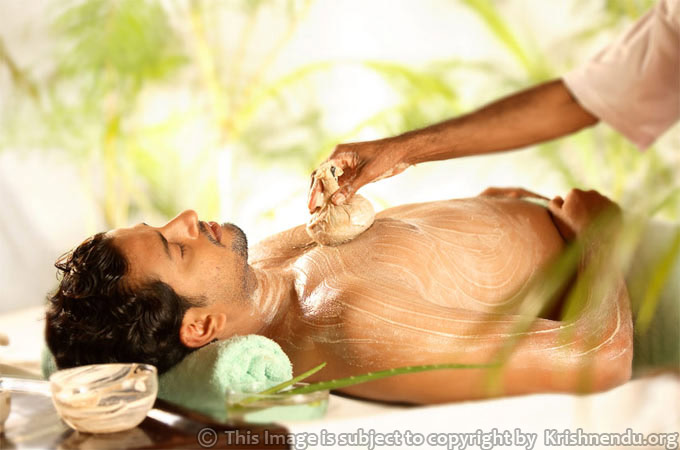 Njavara(Special type of rice with high medical value) is cooked with herbal decoction and milk. It is made up in to boluses and tied up in cotton bags A massage with medicated oil and then with these boluses helps the body to foment, rejuvenates and tones up weak muscles. Effective in spine related problems, arthritis, stroke and muscle weakness.